911 S Targa Softwindow
---
First owner and first paint

Full history

Thé ultimate 911 Targa
Price on request
Inquire now
Share this car
When the Porsche 911 F model was launched, there was only a coupe. Porsche wanted to present a convertible shortly thereafter, but especially in the U.S. there were very strict safety regulations that made it almost impossible to sell a normal convertible in the States. To comply with the regulations, Porsche came up with an answer, and what one: the Targa. This ideal blend between comfort and safety was introduced in 1965 and formed the basis for a legend that lives on today as one of the most iconic Porsche models ever made.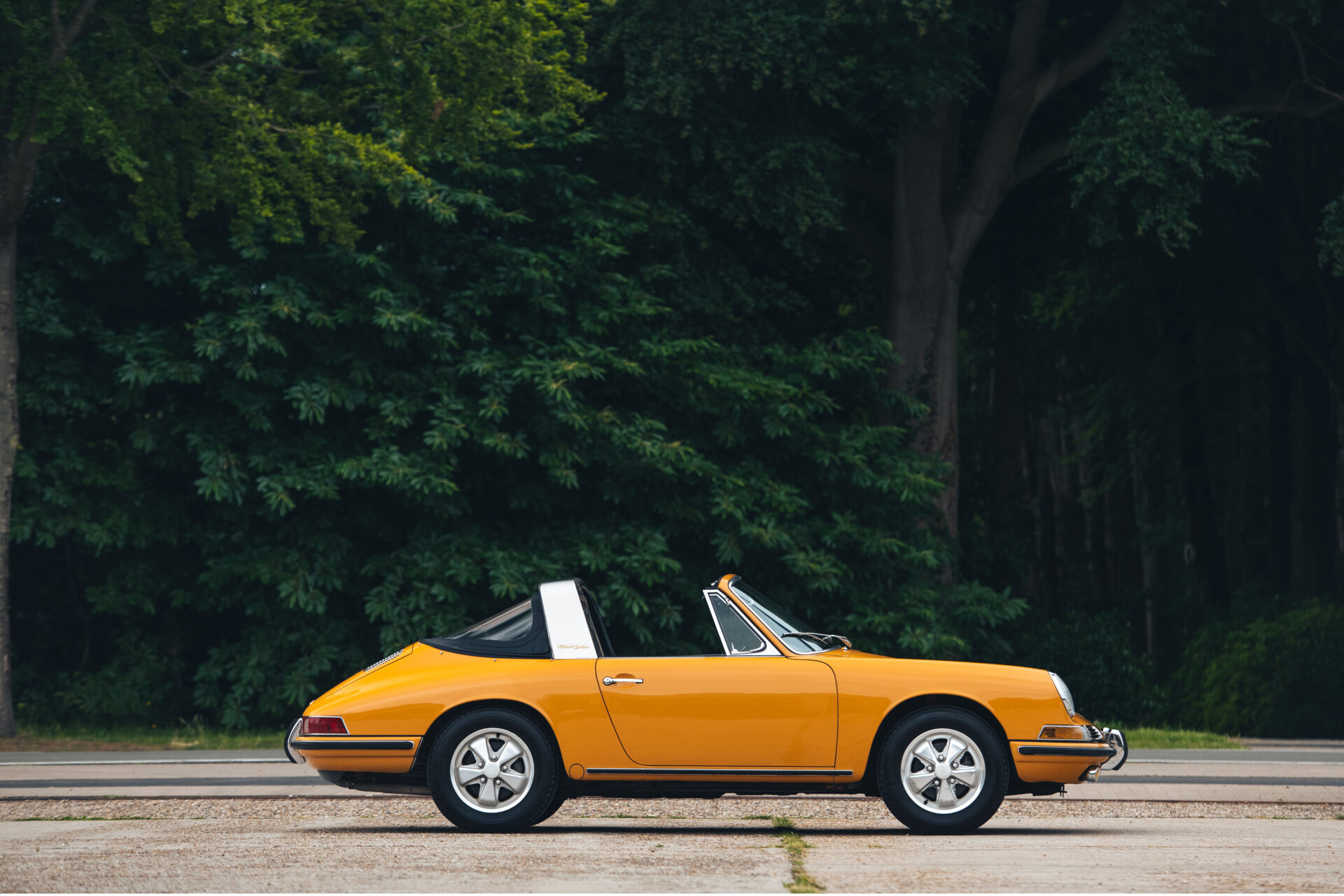 It doesn't get any rarer than this! An extremely original and fully matching numbers and colors '67 Porsche 911 'S' Targa Soft Window from the first owner. A must- have collector's item that will make any Porsche fanatic's heart beat faster. And the "S" motorization from the first year of 'S' production also makes it highly sought after by collectors.
Our Porsche '67 Porsche 911 'S' Targa Soft Window is one of only 483 produced in the production of only 2 years and was bought new in '67 by its proud first owner, a U.S. Marine who wanted to take delivery of the car at the factory itself in Germany at all costs and immediately used it for what it was made for: Driving! He went on a wonderful road trip across Europe and drove countless carefree miles with his beloved softwindow before having it shipped home. However, one thing had become clear to him during this road trip, the originally delivered polo red color was not completely his thing after all. Therefore, shortly after the car was delivered, he decided to have Porsche itself change the color to the fantastic Bahama Gelb. So the car was sent back to the factory to be given its new beautiful paint which is still in excellent condition today. (Of course fully documented and fully demonstrable along with the 300 page folder full of invoices, letters, certificates and photos)
Originality and patina are now the buzzwords for 911 collectors and a well-preserved car with matching numbers that still resides in her first paint and has an exceptionally extensive history like this 911 Soft Window is what everyone is looking for. She was never fully restored and is today in exceptionally good condition. The beautiful bahama gelb paint is still largely original and shows a beautiful patina as are the original upholstery and original Recaro sports seats in the interior.
As icing on the cake, this is also the most coveted "S" model so it received an upgraded suspension, koni shocks, ventilated disc brakes and a 30hp engine upgrade. The ride is incredible, the precise steering combined with the short wheelbase and the weight of the engine behind the rear axle make for an unparalleled driving experience. And what could be better than opening the soft-window on a beautiful summer day, letting the wind blow through the car and letting a symphony of the air-cooled 2.0 six-cylinder engine sing in the background.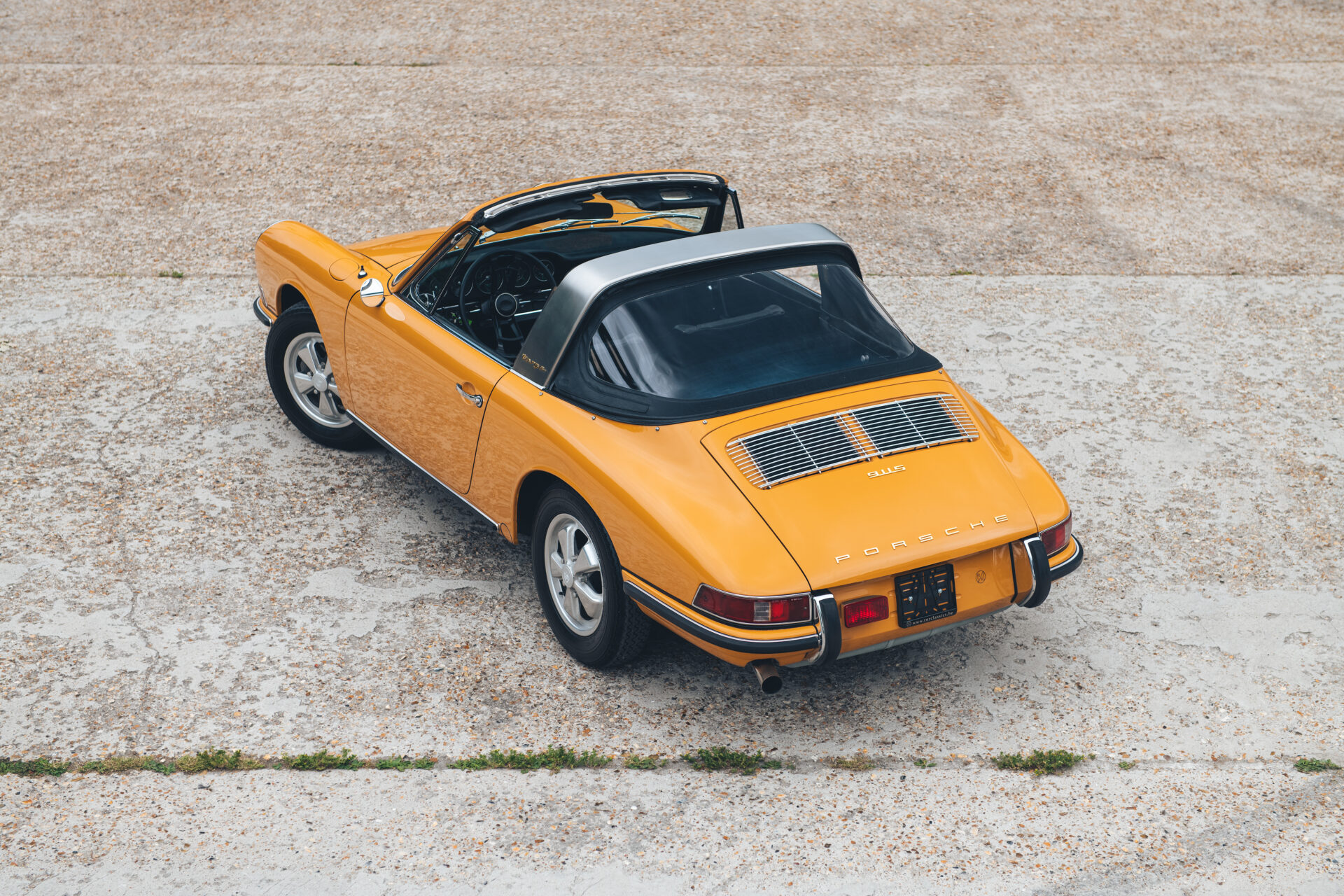 If you are looking for the ultimate Porsche 911 Targa in a very original but also a tremendously high quality and perfectly drivable condition then this is the car to have. We rarely come across them with this history and in this exceptional condition which makes it one of the most coveted models by true collectors. Do not wait any longer and discover it now at Rock 'n Roll Classics.