280SL
---
Matching numbers

Original Belgian car

Recent motorrevision
Sold
Inquire now
Share this car
In November 1967, a year after the 250SL was launched, the 280SL was added to the assembly line in Sindelfingen. The reason this model came on the market so quickly was simple, The need for larger engine power was increasing to keep up with the American market, which was their main export market. From this came the six-in-line 2.8 liter engine with 170hp. Many experts say the W113 in the 1960s was powered by Mercedes' best engines ever, including the 280SL. In terms of appearance, only the hubcaps changed and the Mercedes logo flaunted proudly on the hood. The 280SL was a success story and production ended in March 1971.

From 0-100 km/h in just 8 seconds makes this one of the fastest cars of its time, even today the car can keep up perfectly with everyday traffic. In the years of the 280SL's production, power steering was reserved only for the very best cars like this 280SL and drives extremely luxurious and comfortable due to this exceptional upgrade.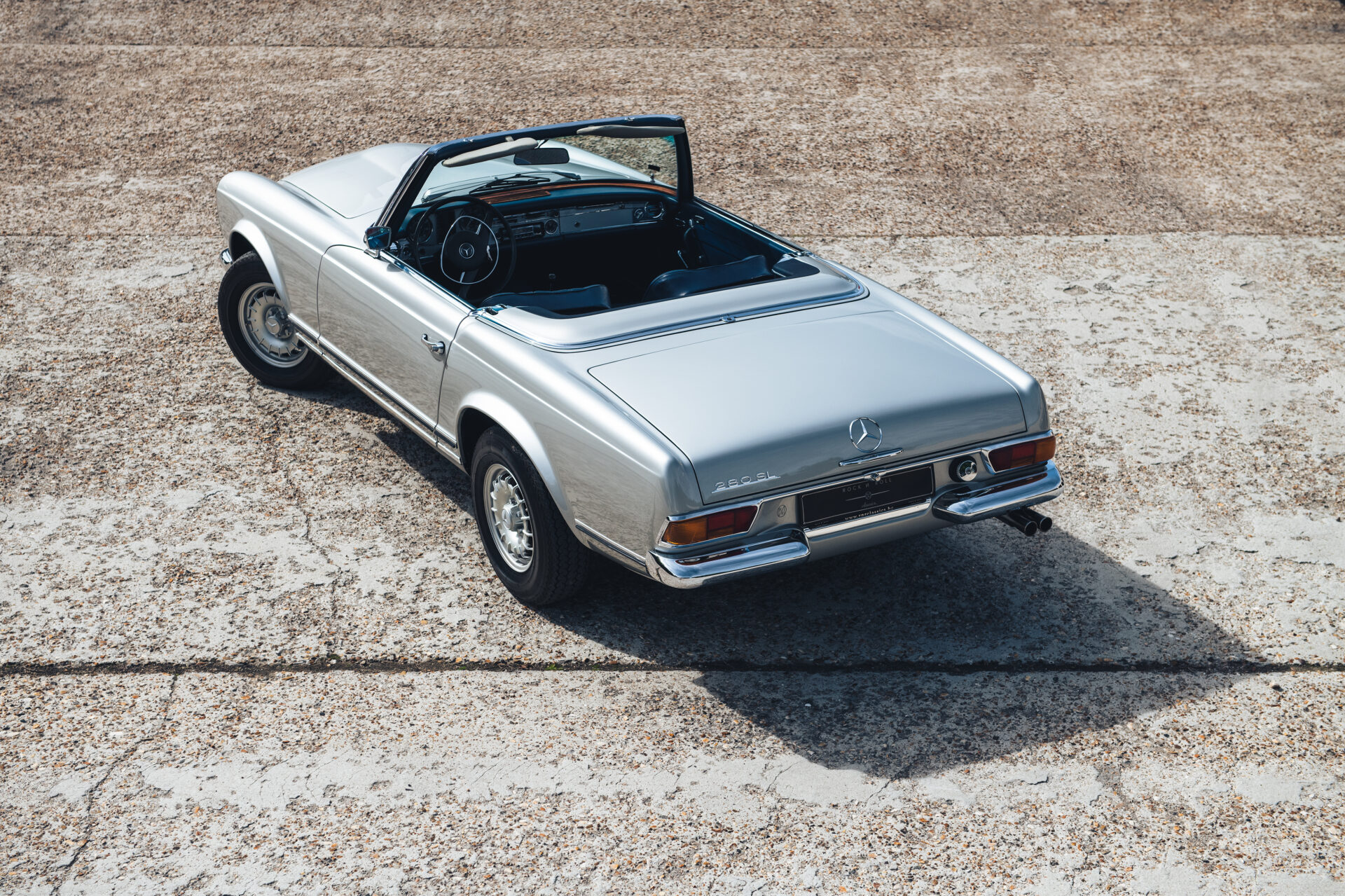 Our 1968 280SL was originally delivered in Belgium to its proud first owner. The car is still fully matching to this day and is in superb condition. The bodywork was expertly refinished down to bare metal last year and repainted with her beautiful and original silver body color. The interior is still the original blue full leather interior and still exudes 60s, it shows a beautiful patina but looks exceptionally good considering her age. The heart of the car, the original 280SL engine was completely overhauled with us a few months back and is thus still as good as new after a few rodage kilometers. This is also exactly how it feels when driving: shifts and drives enormously smoothly yet nippy where necessary, the ideal driver's car! As icing on the cake, the soft top was also replaced with a new one, albeit in the correct color.
Are you now looking for a manual 280SL that is in near-new condition? Are you looking for an ideal driver's car that also looks great and has tremendous quality? Then this 280SL is the answer to your question! Come discover them soon at Rock 'N Roll Classics and I bet I won't get you out of this car after a test drive!