190SL
---
Matching numbers

Nuts & bolts restored

Wonderfull color combination
Sold
Inquire now
Share this car
If there is one car that we can place next to THE icon of Mercedes-Benz -300SL- in terms of looks, it has to be the 190SL. The production line of the 190SL started in early 1955 and it was only available in the form of an open grand tourer, with optional removable hardtop. The 190SL may share identical lines with 300SL, yet it was built for a completely different purpose, namely; pure elegance, luxury and driving pleasure molded together in the form of an open GT. The 190SL was built on a shortened monocoque platform from its luxury brother, the W121 'Ponton'.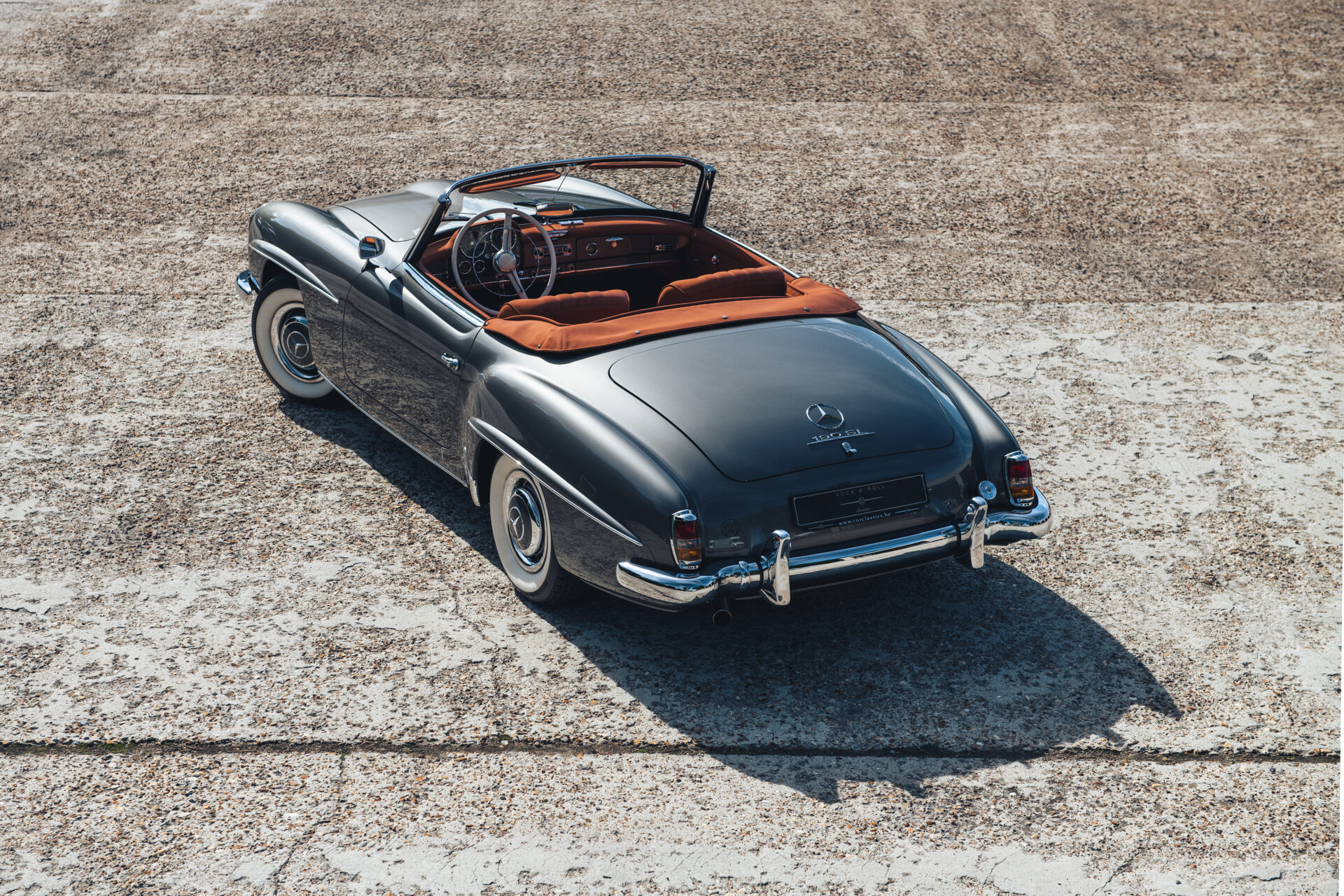 Our 190SL we have here is a real gem to the eye. This matching numbers copy just rounded a complete and demonstrable nuts and bolts concours level restoration. No expense was spared to give this beautiful lines a new look and as if it succeeded it, this stunning color combination is a real treat for the eye. She not only looks gorgeous and brand new but drives like she looks. The 105hp strong and completely overhauled engine in combination with the manual 4-speed gearbox drives tremendously smoothly and is very easy and pleasant to drive which also makes her immediately a very desirable car for rallies, Sunday rides and even trips, this gem does not shy away from any challenge. With only 1600km after restoration, she is thus broken in and on point, ready for her new owner! The cognac colored interior was finished to perfection and imagine yourself in a true luxurious salon where you can dream away for a while. The nice extra are the custom-made suitcases in the trunk, perfect for setting off on a trip! This car radiates from top to bottom, inside to outside pure luxury and quality. In short, a car that is better than when it rolled off the assembly line in 1960.
Can you see yourself driving around in this beautiful example? Are you ready to tame this car during a rally, Sunday drive or one of its many trips? Don't wait any longer and come discover them now at Rock 'n Roll Classics.